Early Help Assessment and Review Documents Revised and Updated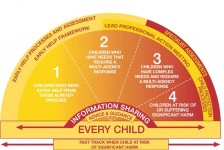 The Early Help Assessment and Action Plan and the Review Form (versions 3.0) have been further developed following consultation with practitioners and managers.
They have been approved for use by the Early Help Steering Group.
The main changes include:
Rearranging the form to have all the family details together and the Lead Professional details following that
Inclusion of drop down boxes to assist you to complete more quickly and to provide info for reporting purposes
A streamlined assessment with no areas removed, but merged together
A scaling tool to measure overall improvement over time – please complete this with the family – it is not intended to be a professional judgement of the family circumstances and will only be used to measure individual progress of each case over time
Some clarity in the consent section to encourage more practitioners to complete the section outlining which services will receive the information
A monitoring section for the IW team (we have previously been adding this manually each time) – this is for our use to assist in producing quality reports
The Early Help Assessment and Action Plan form v3.0 should be used for any new Early Help processes started – don't retype existing info into these new forms. The Early Help Review can be used immediately for any cases you have already open. If you feel you can include the scaling tool for these on-going cases then do so, otherwise explain to families that it's a new thing we've introduced for new cases.
All the revised documents can be found here
If you have any old templates saved please can you delete them and replace with these; don't forget to let your colleagues know. If you have any queries then please contact the Integrated Working Team on 01204 331394/1392.