New Early Help and Complex Families Hub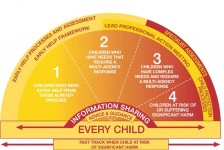 The Hub is based on the ground floor at Castle Hill Centre and is now live. It has been developed to further strengthen Bolton's Early Help Offer.
What is it?
The Hub supports Lead Professionals when they are working with families presenting with complex and multiple needs at high level 2 in Bolton's Framework for Action. The Hub supports cases where Lead Professionals have exhausted existing processes. Using effective information sharing, it draws on the collective partner expertise to explore the options for engaging differently with an individual or family.
How do we define a complex family?
Families who have multiple & complex needs, such as sporadic engagement, drug & alcohol misuse, mental health, missing from home, debt, non-school attendance, failing to attend appointments, domestic abuse and crime.
How can the Hub help?
Partner agencies work from the hub to share information and liaise with colleagues regarding complex families
Offering day to day advice and guidance to professionals who are working with complex families
A multi- agency panel to support the Lead Professional build on strengths and explore ways to gain better outcomes for the family; Lead Professionals can submit cases to a hub panel (with the consent of the family) where little or no progress is being made. The first panel meeting will be held on 18 October 2017 and more information can be found here
Hub Panel Criteria
An Early Help Assessment must be in place
Child Action Meetings must have been taking place
Plus the following-
The family are complex and have multiple needs
There are limited or no outcomes being achieved
If you wish to submit a case to the Hub you should ensure the criteria above is met, complete the Early Help and Complex Families Hub – Request for Support Form and send this to Early Help Hub along with the Early Help Assessment and Action Plan.
To find out more you can email the Hub as above, contact 01204 337072 or access the information guide here
This entry was posted in News and tagged Early help, hub, MASH. Bookmark the permalink.